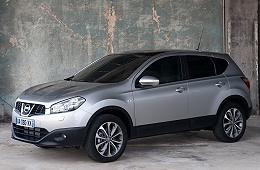 Here is a comparison between the Nissan Dualis and the Mitsubishi ASX. We where very impressed with the Mitsubishi ASX or RVR that we decided to check out the Nissan Dualis or Qashgai for a comparison. These are smaller cars than the size we are after BUT we decided to look anyway.
First off the Dualis we tried was the 2010 model and the updated shape does look much better than the old model. The Mitsubishi ASX is a new model released this year (2010).
The exterior of the Nissan Dualis looks great. It is modern, vaguely aggressive and well proportioned. The Mitsubishi ASX has a similarly modern and aggressive front end but the rest of the body work doesn't seem to work as well. It has the same issue that the 1st generation Dualis had when released.
The interior comparison is quite different in both cars. The ASX has an interior that was has higher quality materials and design compared to the Nissan. The Nissan while OK just feels like the cheaper small car. The ASX has design and material to rival the benchmark VW Golf in this category. Easy win to the Mitsubishi ASX.
We rarely mention equipment levels because they change all the time. There are also special edition models which have bonus equipment that can sway your purchasing decision. That said the equipment levels on the ASX are higher than the Nissan. The top range ASX is the easy winner with SAT-NAV GPS and a cool and powerful stereo system included.
The Mitsubishi ASX buyer has a choice of a petrol or diesel engine. The diesel engine appears to be the best choice for performance and economy. The Nissan only has one engine to choose from which appears to be a reasonably new 2 litre petrol engine. The ASX wins our vote because of the additional engine option. In terms of engines the ASX shares the engine with the Lancer and expected lively and good refinement as per most Mitsubishi engines but always wanting a little bit more. Due to lightness it should have decent performance.
Since none of use have driven the Dualis yet we cannot compare them it this regard at the moment. However the ASX is fine to drive so we expect the same from the Nissan. The ASX drives like a normal car with the same sort of steering feel. I honestly can't find anything interesting to say about it.
Which is better – the ASX or the Dualis? Depends on what you value more. The nicer looking exterior of the Nissan is the pick but only if you can live with the cheaper feeling interior. The ASX is the choice if you want a better interior but with conservative looks. If we where to buy one we would pick the ASX – it has lots of substance for the money. (Update 2013 As a result of the latest price offers the Dualis now offer more perceivable value compared to the ASX which means we think the Dualis now has the edge in terms of preference.)
Nissan Dualis aka Qashgai
Mitsubishi ASX
Engines
 

IL 4 Cylinder (MR20)
IL 4 Cylinder petrol
DOHC 16 valve VTEC EFI
2.0 Litre (1997cc)
Claimed 102Kw @ 5800RPM
Claimed 198Nm @ 4400RPM

4 Cylinder (4B11)
2.0 Litre (1998cc) petrol (91 Octane)
DOHC VVT EFI
Claimed 110Kw @ 6000RPM
Claimed 197Nm @ 4200RPM

4 Cylinder (4N13)
1.8 Litre (1798cc) diesel
Turbo intercooled
Common rail direct injection
Claimed 110Kw @ 4000RPM
Claimed 300Nm @ 2000RPM

Weight
 

Kerb weight 1422 – 1556Kg
Towing capacity up to 1200kg

Kerb weight 1340 – 1525 Kg
Towing capacity up to 1050kg

Fuel capacity & consumption
 

Up to 65 litres
IL4 Petrol 8.5 Lts per 100km AVG (Auto)

Up to 60 – 63 litres
IL4 2.0 Petrol 7.7 litres per 100km
IL4 1.8 Diesel 5.9 litres per 100km

Other specifications
 

6 speed manual or CVT Auto
Overall height/Overall width 1606-1645/1783
Overall length/Wheelbase 4330-4541/2630-2765
4WD system: FWD or AWD
ANCAP Safety: 5/5
Tyre size: 225-65-17

5 speed manual or CVT Auto
Overall height/width 1615/1770
Overall length/Wheelbase 4295/2690
4WD system: FWD or AWD 
ANCAP Safety: 5/5
Tyre size: 215-60-17

Capability 
 

Angle of: (degrees)
Approach xx Departure xx Breakover xx
Ground clearance (unloaded) xxxmm
Water Fording depth xxmm Max

Angle of: (degrees)
Approach xx Departure xx Breakover xx
Ground clearance (unloaded) xxxmm
Water Fording depth xxmm Max

Performance
 
 

Pricing
 

2010 $24,990 – 34,390 AUD (standard)
2010 $29,990 – 36,890 AUD (+2 version)
*Always check with the dealer for up to date pricing, specifications, on-road costs, accessories and specials etc.. everything as usual is subject to change!

2010 $25,990 – 36,990 AUD (Standard)