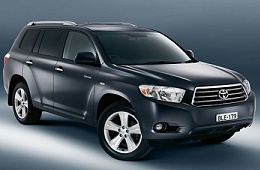 This the review comparison between the 2010 Ford Territory (SY series) and the Toyota Kluger (GSU series). We have an issue with the usual categorization of the Kluger and Territory as small SUVs. We think they are medium sized, having less of a gap in terms of size to the Prado than to the truly small SUVs like the Honda CRV. See below for the specification comparison and drive review.  Note that an all new 2011 series was released in March 2011 which includes an all new diesel engine option.
The Ford Territory (SYII) is a smaller car than the Kluger and both are not equipped to go beyond a easy off-road terrain. Since we drive the the Kluger on a regular basis we thing very highly of it and would definitely consider it if our needs off road where not as demanding. 
The Toyota Kluger is a very refined SUV. The Kluger is as quiet as the Prado if not more and has just as much power on the road of peak hour drag races. Admittedly it does feel softer in power delivery. The only issue we could fault is the relatively high fuel consumption and that the 2011 exterior update makes it look too Korean. The look of the original series could easily be mistaken as a larger Lexus RX until you drive it. It drives well in normal conditions but will only let you drive it sedately. Any quick reaction on say a round about we felt the traction control cut in.
The Ford Territory also gives a good impression when you get in the car. Good quality materials and lots of family friendly features. The quality of materials is pretty good and the interior design that you can physically see is also good but you can tell that it needs and update. 
The Ford Territory comes in AWD – all wheel drive or 2 wheel drive, rear driven option on most models. We drove briefly was the AWD model and we can tell you it is a quiet, refined, good handling and lots of power! The ease of acceleration was notable after driving smaller 4 cylinder SUVs including the V6 Kluger.
If we bought the Territory it would be with the Barra 245T engine, it would be a very fast and comfortable SUV, admittedly one that uses a lot of petrol! We think it looks good too.
There are lots of model variants and options for the Territory so it shouldn't be too hard to get a unique version. Specifications are for 2009 models. The interior also a nice place to be in with good quality materials used in the local Ford Falcon. However don't look too closely. It's nicer than many in the small SUV class. It is expected due to the price though.
The only thing that counts against the Ford Territory is the number of exactly the same complaints by lots of owners but for the original series. At least if you buy a Territory you will know what can go wrong which helps alot in the decision making process.
Toyota Kluger

Ford Territory SY Series

Engines
 

2GR-FE
V6 Petrol
DOHC VVTi EFI
3.5 Litre (3456cc)
Claimed 201Kw @ 6200RPM
Claimed 337Nm @ 4700RPM

2TR-FE
IL4 Cylinder Petrol
DOHC VVTi EFI
2.7 Litre (2694cc)
Claimed 118Kw @ 5200RPM
Claimed 241Nm @ 3800RPM

Barra 190
I6 cylinder Petrol
DOHC EFI
4 Litre (3984cc)
Claimed 190Kw @ 5250RPM
Claimed 383Nm @ 2500RPM

Barra 245T
I6 cylinder Petrol TURBO
DOHC EFI Intercooler
4 Litre (3984cc)
Claimed 245Kw @ 5250RPM
Claimed 480Nm @ 2000RPM

Weight
 

Kerb weight 1840-2030Kg
Towing capacity up to 2000kg

Kerb weight 1967-2127Kg
Towing capacity up to 2300Kg

Fuel capacity & consumption
 

72 litres
V6 Petrol 11.6 litres per 100km

75 litres
I6 Petrol 12.9(A) litres per 100km (AWD)
I6 Petrol 11.6(A) litres per 100km (2WD)
I6 Petrol TURBO 14.2(A) litres per 100km

Other specifications
 

5 speed Auto
Overall height/width 1760/1910
Overall length/wheelbase 4785/2790
Track (front/rear) 1630/1640-1645
NCAP safety rating 5/5

6 speed Auto or 5 speed Auto
Overall height/width 1715/1898
Overall length/wheelbase 4856/2842
Drive system: 4wd or 2wd (rear)
NCAP safety rating 5/5

Capability 
 

Angle of: (degrees)
Approach ??? Departure ??? Breakover ???
4WD system: 2WD or AWD with selectable modes
Minimum ground clearance 206mm

Angle of: (degrees)
Approach 23 Departure 19.8
4WD system: AWD or 2WD only
Minimum ground clearance 179mm

Performance
 
 
Barra 245T Turbo 0-100kph 7.2 Secs
Pricing
 

2012 $39,990 – 65,900 AUD 
2010 $40,990 – 65,900 AUD 
2009 $43,785 – 64,974 AUD
*Always check with the dealer 
for up to date pricing, on-roads 
and specials accessories etc…

2010 $39,890 – 57,890 AUD
2010 $34,990 RWD TX special Ltd.