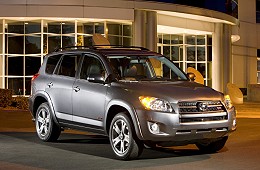 Here's a comparison between the all new Kia Sportage and the Toyota RAV4. These models are two of the most popular small SUVs in the country so worth a comparison. 
Although the Kia Sportage has been released you will find it hard to buy the 2011 model due to short supply. We were told due to a lack of stock (December 2010). We think its because the Australian model will get the better suspension package not available else where in the world? If you can buy one you rewarded with a pretty decent city biased SUV.
Kia has come a long way in the last 10 years and the Sportage is one of the best models to date (2011). They have developed their own style inside and out which works just well if not better than many SUVs currently for sale new. The Sportage is easily more impressive than the Subaru Forester but is a match for the all Subaru XV -finally.
The Toyota RAV4 is looking just like any other Toyota – good but not inspiring. It still drives and looks OK but aging more than its newer competitors. The V6 version is unique it the class having so much power and is the only choice if instant power is your priority. However at the same time it is clear that the RAV4 wasn't designed for that sort of power.
The Kia Sportage is all new and looks it. We like almost everything about the new Sportage. There are only a few things that need extra work and that involves developing a better basic petrol engine and arguably less fussy interior design. That said, next to the RAV4 the Sportage is the more impressive package.
Both are well made and solid with the Sportage having higher equipment levels than the RAV4. The option of 2WD only drive line makes them good value for money compared to the limited off road abilities of the AWD models.
If your budget doesn't stretch to the Toyota RAV4 or you want something just as good then get the new Sportage. The Kia's price is competitive and equipment levels make rivals like the RAV4 look overpriced.
Kia Sportage
Toyota RAV4
Engines
 

L4 Cylinder (G4KD)
IL4 Cylinder petrol
DOHC 16 Valve
2 Litre (1998cc)
Claimed 122Kw @ 6200RPM
Claimed 197Nm @ 4600RPM

IL4 Cylinder (G4KE)
IL4 DOHC Petrol
DOHC 16 Valve
2.4 Litre (2539cc)
Claimed 130Kw @ 6000RPM
Claimed 227Nm @ 4000RPM

IL4 Turbo Diesel (D4HA)
IL4 DOHC 16 Valve Diesel
Turbo-charged – Intercooler
Direct Injection – Common Rail
2 Litre (1995cc)
Claimed 135Kw @ 4000RPM
Claimed 392Nm @ 1800-2500RPM

IL 4 Cylinder (G4KD)
IL4 Cylinder petrol
DOHC 16 Valve
2 Litre (1998cc)
Claimed 122Kw @ 6200RPM
Claimed 197Nm @ 4600RPM

IL4 Cylinder (G4KE)
IL4 DOHC Petrol
DOHC 16 Valve
2.4 Litre (2539cc)
Claimed 130Kw @ 6000RPM
Claimed 227Nm @ 4000RPM

IL4 Turbo Diesel (D4HA)
IL4 DOHC 16 Valve Diesel
Turbo-charged – Intercooler
Direct Injection – Common Rail
2 Litre (1995cc)
Claimed 135Kw @ 4000RPM
Claimed 392Nm @ 1800-2500RPM

Weight
 

Kerb weight 1470 – 1995Kg
Towing capacity up to 1600kg

Kerb weight 1545 – 1665Kg
Towing capacity up to 1900kg (V6)

Fuel capacity & consumption
 

Up to 55 litres
IL4 2.0 Petrol 8.5 litres per 100km
IL4 2.4 Petrol 9.2 litres per 100km
IL4 2.0 Diesel 7.5 litres per 100km

Up to 60 litres
IL4 Petrol 9.1Lts per 100km AVG (Manual)
IL4 Petrol 9.6Lts per 100km AVG (Auto)
V6 Petrol 10.5Lts per 100km AVG (Auto)

Other specifications
 

5 speed manual or 6 speed Auto
Overall Height/Width 1685/1820
Overall Length/Wheelbase 4410/2640
4WD system: FWD or On-demand AWD
ANCAP Safety: ?/5
Tyre size: 225-60-17  225-55-18

5 speed manual or 4 speed Auto
Overall height/Overall width 1695/1855
Overall length/Wheelbase 4625/2660
4WD system: FWD or On-demand AWD
ANCAP Safety: 4/5

Capability 
 

Angle of: (degrees)
Approach 28.1 Departure 26.9 Breakover 17
Min Ground clearance (unloaded) 170mm

Angle of: (degrees)
Approach 30  Departure 26  Breakover 20
Ground clearance (unloaded) 202mm
Water Fording depth xxmm Max

Performance
 

Petrol (non-tubro) 0-100Kph:9.5 secs

V6 Petrol (auto)  0-100Kph:7.4 secs

Pricing
 

2010 $26,990 – 37,990 AUD
*Always check with the dealer for up to date pricing, specifications, on-road costs, accessories and specials etc.. everything as usual is subject to change!

2010 $31,990 – 49,990 AUD (AWD models)